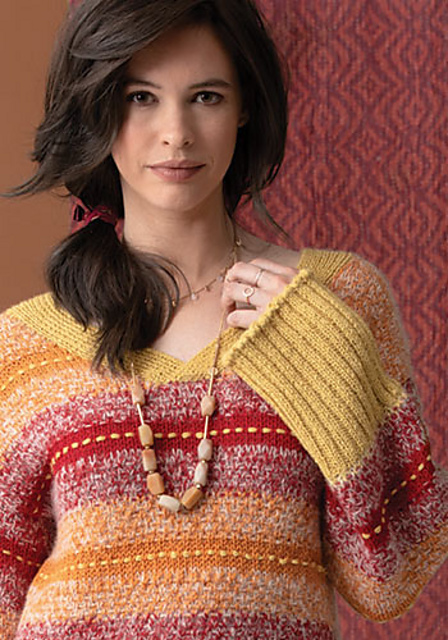 FREE SPIRIT
A breezy silhouette, a statement sleeve, the brightest of colors. Take your cues from greats, and let creativity be your guiding light. 
One breath can send dozens of fluffy dandelion seeds floating into the wind. Similarly, designs can begin with a single insight and then move in delightful directions.
Inspired by the mohair-like tufts of the dandelion, this sweater is a true original. Sandnes Garn Alpakka, Peer Gynt, and Silk Mohair dazzle in gradient colors and natural fibers that blend like a dream. Add texture, bright marled stripes, and embroidery, and you're on your way creating a bohemian masterpiece.

Designed by Jacqueline van Dillen
Published in Vogue Knitting, Fall 2020
Photography credit goes to Jack Deutsch
Styled by Natasha Senko Thalman
Hair and Makeup styled by Cindy Adams
                                                                                        
The garment is already added to ravelry!